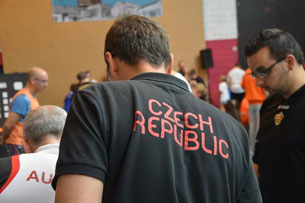 Každý rok, federace FISTF pořádá mistrovství světa.
Od roku 1993 mnoho hráčů representovali Česka republika. Tady mame informace, které jsme shromáždili
Every year the international federation FISTF play the World Cup. Many czechs players have played.
Here is a short hystory with our information.
Please help us to find others. Thank you.
special thanks to Vincent Coppenolle and David Vacke

---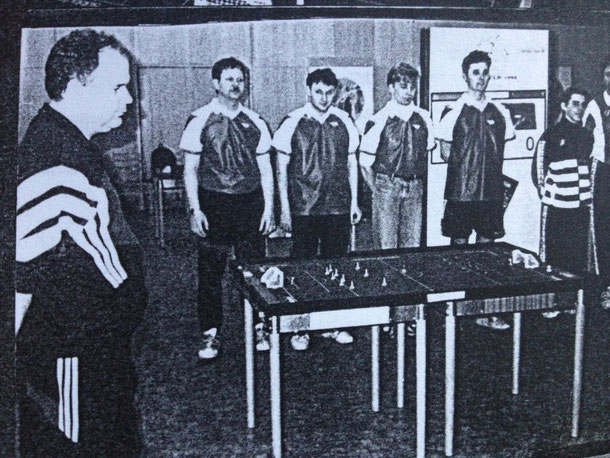 ---
29.05.1993 Wuppertal (přátelský/friendly)
GERMANY - CZECH REPUBLIC 4 : 0
W. Schneider - R. Cajnik 4 : 0
A. Schneider - J Cajnik 6 : 0
F. Scherer - M. Zavransky 5 : 0
J. Rottjer - K. Snasel 7 : 0
13.06.1993 Vienna (přátelský/friendly)
AUSTRIA - CZECH REPUBLIC 4 : 0
R. Lenz - M. Novotny 9 : 0
G. Ecker - T. Drazan 7 : 0
M. Hasieber - J Cajnik 12 : 0
H. Deimel - R. Cajnik 7 : 0
13.06.1993 Vienna (přátelský/friendly)
AUSTRIA B - CZECH REPUBLIC B 4 : 0
G. Mandl - M. Zavransky 2 : 1
E. Hinkelmann - R. Holub 14 : 0
R. Marischka - M. Sulc 8 : 0
M. Matzinger - J Kostir 10 : 0
13.06.1993 Vienna (přátelský/friendly)
AUSTRIA U15 - CZECH REPUBLIC U15 3 : 1
M. Leitner - P. Colek 8 : 0
M. Dressler - R. Cajnik 1 : 3
S. Dressler - P. Stolz 4 : 0
T. Korzil - P. Novak 4 : 1
25.09.1994 Paris (World Cup)
FRANCE - CZECH REPUBLIC 4 : 0
D. Fuseau - M. Novotny 9 : 0
Abecassis - M. Sulc 2 : 1
E. Naszaly - L. Opocensky 7 : 1
H. Klein - R. Cajnik 4 : 0
25.09.1994 Paris (World Cup)
CZECH REPUBLIC - GREECE 0 : 3
R. Cajnik - Papidakis 0 : 3
M. Sulc - P. Konstadakos 0 : 2
M. Novotny - K. Triantafillou 3 : 3
P. Novak - K. Kechris 0 : 4
21.03.1998 Uherske Hradiste (přátelský/Friendly)
CZECH REPUBLIC - AUSTRIA 0 : 4
V. Madr - M. Strachovsky 0 : 5
D. Vacke - H. Pichler 0 : 2
S. Opl - M. Hasieber 0 : 9
L. Opocensky - W. Haas 3 : 6
17.06.2000 Vienna (přátelský/friendly)
AUSTRIA - CZECH REPUBLIC 4 : 0
R. Lenz / M. Hasieber - S. Opl 7 : 1
T. Wittmann - V. Madr 7 : 0
G. Ecker - D. Vacke 4 : 1
C. Blumel - L. Opocensky 2 : 1
10.09.2000 Vienna (World Cup)
AUSTRIA - CZECH REPUBLIC 4 : 0
M. Matzinger - D. Vacke 8 . 0
R. Lenz - L. Opocensky 4 : 0
T. Korzil / G. Bamberzky - P. Hutka 6 : 0
K. Heider - S. Opl 7 . 2
10.09.2000 Vienna (World Cup)
PORTUGAL - CZECH REPUBLIC 4 : 0
H. Carvalho - D. Vacke 10 : 0
F. Maia - L. Opocensky 4 : 0
V. Guimaraes - P. Hutka 10 : 3
N. Miguel - S. Opl 11 : 0
10.09.2000 Vienna (přátelský/friendly)
DENMARK - CZECH REPUBLIC 1 : 2
R. Lund - D. Vacke 1 : 2
Nielsen - L. Opocensky 2 : 2

forfait - M. Mejzlik 0 : 3
Bentzen - Z. Mateja 2 : 1
10.09.2000 Vienna (World Cup)
CZECH REPUBLIC U19 - AUSTRIA U19 0 : 4
B Bueres - M Jurik 0 : 7
Z Mateja - Morawitz 0 : 4
M Mejzlik - H Eder 1 : 7
O Vacke - Exler 0 : 6
10.09.2000 Vienna (World Cup)
CZECH REPUBLIC U19 - FRANCE U19 0 : 4
M Mejzlik - C Soret 0 : 1
B Bures - Quere 0 : 6
Z Mateja - Garnier 1 : 5
O Vacke - Wlodarczyk 1 : 10
18.08.2001 Mattersburg (přátelský/friendly)
CZECH REPUBLIC - ITALY 0 : 4
L. Opocensky - F. Mattiangeli 1 : 5
M. Mejzlik - M. Nastasi 2 : 7
S. Opl - G. Galeazzi 0 : 3
D. Vacke - S. De Francesco / E. Intra 0 : 2
17.08.2002 Mattersburg (přátelský/friendly)
CZECH REPUBLIC - ITALY 0 : 4
M. Mejzlik - F. Mattiangeli 2 : 7
S. Opl - M. Nastasi 1 : 8
D. Vacke - S. De Francesco 3 : 6
Z. Mateja - L. Cappellacci 2 : 6
17.08.2002 Mattersburg (přátelský/friendly)
AUSTRIA - CZECH REPUBLIC 4 : 0
M. Matzinger / R. Lenz - B. Bures 7 : 0
E. Hinkelmann - D. Vacke 8 : 2
G. Bamberzky - S. Opl 8 : 0
T. Wittmann - M. Mejzlik 7 : 2
07.06.2003 Vienna (přátelský/friendly)
AUSTRIA - CZECH REPUBLIC 4 : 0
M.Pawlica / G. Bamberzky - S. Opl 4 : 0
M. Matzinger - D. Vacke 5 : 1
E. Hinkelmann - L. Opocensky 5 : 1
T. Wittmann - Z. Mateja / M. Mejzlik 6 : 3
07.06.2003 Vienna (přátelský/friendly)
CZECH REPUBLIC - GERMANY 0 : 2
L. Opocensky - T. Busing 2 : 2
S. Opl - T. Wald / M. Kappl 2 : 6
D. Vacke - A. Mair 1 : 1
M. Mejzlik - W. Mair 0 : 3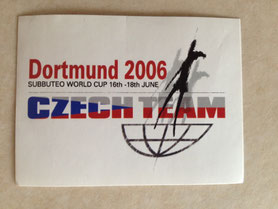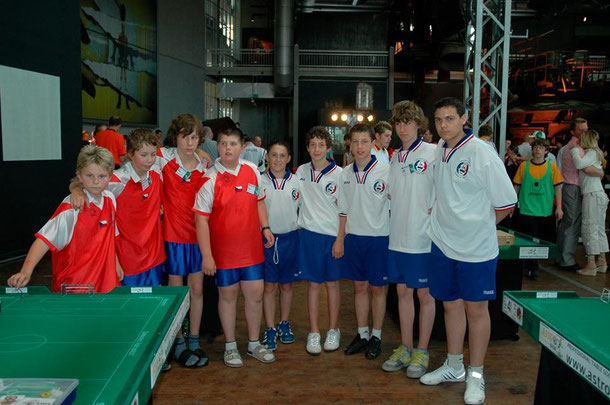 18.06.2006 Dortmund (World Cup)
CZECH REPUBLIC - WALES 2 : 0
S. Opl - D. Lauder 2 : 2
V. Madr - J. Lauder 1 : 1
D. Vacke - T. Gareth 5 : 1
L. Opocensky - C. Lewis 3 : 0
18.06.2006 Dortmund (World Cup)
CZECH REPUBLIC - ITALY 0 : 4
V. Madr - M. Bolognino 0 : 4
D. Vacke - M. Nastasi 2 : 6
S. Opl / Z. Mateja - S. Bari / E. Intra 0 : 11
L. Opocensky - F. Mattiangeli 1 : 7
18.06.2006 Dortmund (World Cup)
BELGIUM - CZECH REPUBLIC 4 : 0
G. Delogne - D. Vacke 4 : 2
A. Dikaios - V. Madr 2 : 0
A. Torrè - S. Opl 6 : 2
V. Dejardin - L. Opocensky 3 : 0
18.06.2006 Dortmund (World Cup)
CZECH REPUBLIC U15 - DENMARK U15   0 : 4
P Lysonek - Christiansen 1 : 4
J Cevela - Honore 0 : 8
J Surmanek - Frederiksen 0 : 5
D Vanek - Staal Nielsen 0 : 3
18.06.2006 Dortmund (World Cup)
CZECH REPUBLIC U15- FRANCE U15   1 : 3
D Vanek - Mekri 2 : 1
J Cevela - Bois 1 : 3
J Surmanek - Garnier 0 : 14
P Lysonek - Etienvre 1 : 3
15.06.2008 Vienna (World Cup)
CZECH REPUBLIC - SPAIN 0 : 4
S Opl - V Benita 1 : 8

D Vacke - Benita R 0 : 3
P Hutka - V Prats 0 : 9
V Madr - Mateos A 1 : 7
15.06.2008 Vienna (World Cup)
AUSTRIA - CZECH REPUBLIC 4 : 0
E Hinkelmann - P Hutka 10 : 0

M Pawlica - S Olp 6 : 0
T Korzil/M Leitner - D Vacke 6 : 0
K.H. Haider - V Madr 5 : 1
15.06.2008 Vienna (World Cup)
CZECH REPUBLIC - DENMARK 3 : 1

V Madr - Buhl Hansen 0 : 1

D Vacke - Enevoldsen 6 : 0
S Opl - Christiansen 1 : 0
P Hutka - x 3 : 0
15.06.2008 Vienna (World Cup)
CZECH REPUBLIC U15 - ITALY U15   1 : 3
D Vanek - Stefanucci/Battista 2 : 0

J Blaha/J Sipka - Palmieri 0 : 4
J Cevela - Bellotti 2 : 12
P Lysonek - Zambello 1 : 2
15.06.2008 Vienna (World Cup)
HOLLAND U15 - CZECH REPUBLIC U15   3 : 1
Willeijms - D Vanek 2 : 0

Timmers - J Cevela 6 : 1
van Os C - P Lysonek 4 : 2
Sprenkels - J Blaha 1 : 3
15.06.2008 Vienna (World Cup)
CZECH REPUBLIC U15 - FRANCE U15   1 : 2
J Sipka - L Goisnard 1 : 2

D Vanek - A Biret 2 : 0
P Lysonek - P Foucher 0 : 0
A Desegaulx - J Cevela 2 : 1
03.01.2015 Vienna (pratelsky/friendly)
HUNGARY . CZECH REPUBLIC  1 : 2
A. Szaki - M. Zucchi 0 : 4 (0:3)
Z. Baross - J. Uchytil 1 : 1 (0:0)
G. Baross - D. Lazari 0 : 4 (0:0)
L. Csaba - x  5 : 0
28.02.2015 Praha (pratelsky/friendly)
CZECH REPUBLIC VET - GERMANY VET 0: 4

M Zucchi - F Stiller 0 : 2 (0:1)
D Lazari - T Busing 0 : 1 (0:0)
S Opl (J. Uchytil) - A Mair 0 : 6 (0:2)
D Young - T Horn (T Vulpes) 0 : 4 (0:1)
28.02.2015 Praha (pratelsky/friendly)
CZECH REPUBLIC - GERMANY 0 : 4
J Uchytil - A Krawse 0 : 1 (0:1)
D Lazari - M Kwiatkowski 3 : 4 (1:3)
S Opl - A Ruf 1 : 6 (0:2)
M Zucchi - M Tilgner (B. Kegenbejn) 3 : 6 (3:3)
11.09.2015 San Benedetto del Tronto (pratelsky/friendly)
CZECH REPUBLIC - UNITED STATES 1 : 3
J Uchytil - Z. Walker 0 : 5 (0:4)
D Lazari - O'Donnovan Rossa/Gasparini 4 : 1 (2:0)
M Zucchi - A. Cranston 1 : 4 (0:2)
x - P.Alegi 0 : 5
11.09.2015 San Benedetto del Tronto (pratelsky/friendly)
CZECH REPUBLIC - JAPAN 3 : 1
J Uchytil - T. Kido 1 : 0 (1:0)
D Lazari - K. Koi 5 : 0 (3:0)
M Zucchi - K. Fukuoka 5 : 0 (2:0)
x - S. Fujino 0 : 5
13.09.2015 San Benedetto del Tronto (WORLD CUP)
CZECH REPUBLIC - BELGIUM 0 : 3
J Uchytil - S. Targui 0 : 7 (0:4)
D Lazari - B. Golger 1 : 1 (1:1)
M Zucchi - S. Scheen 0 : 4 (0:3)
x - R. Huynh 0 : 5
13.09.2015 San Benedetto del Tronto (WORLD CUP)
CZECH REPUBLIC - JAPAN 3 : 1
J Uchytil - K. Fukuoka 1 : 0 (1:0)
D Lazari - T. Kido 7 : 1 (3:0)
M Zucchi - S. Fujino 8 : 0 (3:0)
x - K. Koi 0 : 5
13.09.2015 San Benedetto del Tronto (WORLD CUP)
CZECH REPUBLIC - SCOTLAND 1 : 3
J Uchytil - D. Skinner 0 : 7 (0:6)
D Lazari - D. Allen 5 : 0 (2:0)
M Zucchi - M.Burns/D.Baxter 2 : 3 (2:0)
x - M. Lees 0 : 5
03.09.2017 Elancourt (WORLD CUP)
CZECH REPUBLIC - TUNISIA 3:0
J Uchytil, M Zucchi, M. Novotny - bye
03.09.2017 Elancourt (WORLD CUP)
CZECH REPUBLIC - PORTUGAL 0 : 3
J Uchytil - N. Afonso 0:3
M. Novotny - C. Villarigues 0:2
M Zucchi - L. Abreu 0:0
x - D. Pereira 0 : 5
03.09.2017 Elancourt (WORLD CUP)
CZECH REPUBLIC - AUSTRIA 0 : 4
J Uchytil - R. Lenz 0:6
M. Novotny - W. Leitner 0:7
M Zucchi - A. Haas 1:4
x - C. Haas 0:5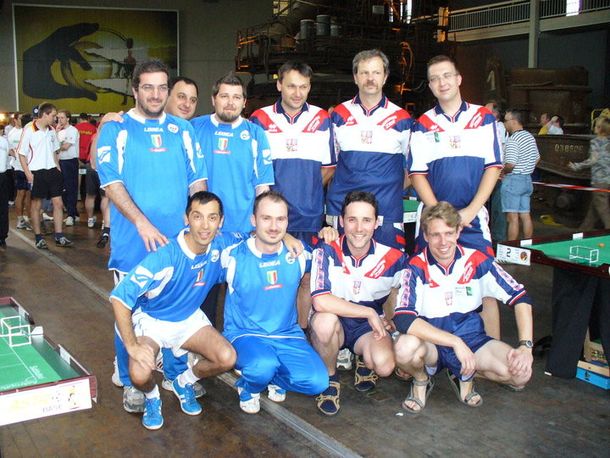 ---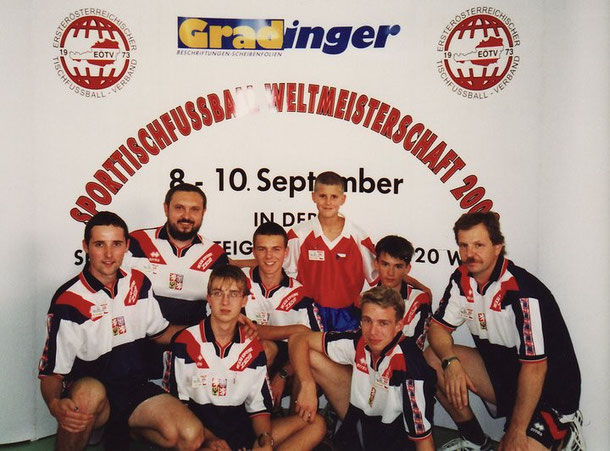 ---
18.09.1993 Verviers (European Champiojship)
Martin Novotny (Open)
group vs. Fuseau (fra) 0 : 7
group vs. Edmunds (wal) 8 : 0
group vs. Dand (sco) 1 : 5
Radoslav Cajnik (U16)
group vs. Allen (sco) 1 : 5
group vs. Centritto (bel) 1 : 2
group vs. Mikkelsen (dan) 1 : 6
24.09.1994 Paris (World Cup)
Martin Novotny (open)
group vs. Taylor (irl) 2 : 1
group vs. Chastenais (can) 7 : 0
last 16 vs. Scagni (ita) 0 : 4
Miroslav Sulc (open)
group vs. Kennedy (aus) 1 : 2
group vs. Bergane (nor) 4 : 5
Radoslav Cajnik (U20)
group vs. Guimaraes (por) 0 : 1
group vs. Matzinger (aut) 1 : 7
Pavel Novak (U20)
group vs. Beck (dan) 0 : 2
group vs. Johncock (aus) 2 : 2
? Novak (U15)
group vs. Falkenberg (dan) 0 : 3
group vs. Louriero (por) 1 : 4
Lukas Opocensky (U15)
group vs. Maekin (eng) 0 : 1
group vs. Abudahr (gib) 8 : 1
last 16 vs. Nunez (spa) 0 : 2
19.09.1998 Namur (World Cup)
Lukas Opocensky (U20)
group vs. Intra (ita) 1 : 3
group vs. Wittmann (aut) 1 : 3
09.09.2000 Vienna (World Cup)
Bohumil Bures (U15)
group vs. Delfosse (bel) 1 : 4

group vs. Dacey (wal) 0 : 9
group vs. Mc Callum (sco) 0 : 3
Ondrej Vacke (U15)
group vs. Choukri (bel) 0 : 7
group vs. Bonscherus (ger) 1 : 4
group vs. Messner (aut) 2 : 0
Zdenek Mateja (U19)
group vs. Einsle (fra) 1 : 4
group vs. Sharp (sco) 1 : 1
group vs. Jurik (aut) 0 : 5
Michal Mejzlik (U19)
group vs. Burns (sco) 0 : 5
group vs. Fonseca (por) 0 : 4
group vs. Garnier (fra) 0 : 6
Stanislav Opl (veteran)
group vs. Stolwik (hol) 1 : 8
group vs. Ecker (aut) 0 : 8
group vs. Gillet (fra) 1 : 11
Petr Hutka (veteran)
group vs. Piron (bel) 0 : 5
group vs. Taylor (eng) 1 : 2
group vs. Dimakeas (gre) 0 : 8
Lukas Opocensky (open)
group vs. Redman (eng) 0 : 2
group vs. De Briun (hol) 0 : 2
Davide Vacke (open)
group vs. Rouis (fra) 0 : 1
group vs. Intra (ita) 1 : 5
Viteslav Madr (open)
group vs. Faria (por) 0 : 4
group vs. Triantafillou (gre) 0 : 10
18.09.2004 Bologna (World Cup)
David Lazzari (open)
group vs. Delogne (bel) 0 : 3
group vs. Leon (spa) 1 : 3
Stanislav Opl (veteran)
group vs. Bolte (hol) 1 : 6
group vs. Garnier (fra) 2 : 1
group vs. F Vulpes (ger) 0 : 0
last 16 vs. Ceulemans (bel) 1 : 3
17.06.2006 Dortmund (World Cup)
Viteslav Madr (open)
group vs. Dikaios (bel) 0 : 5
group vs. Verhagen (hol) 2 : 8
group vs. Gautschi (swi) 6 : 0
Lukas Opocenski (open)
group vs. Mallia (mal) 2 : 2
group vs. Papakostantinou (gre) 0 : 1
group vs. Bradley (eng) 0 : 0
David Vacke (open)
group vs. Bari (ita) 0 : 5
group vs. Russel (eng) 1 : 1
group vs. Ore Petersen (dan) 4 : 1
last 16 vs. Leitner (aut) 1 : 3
Stanislav Opl (veteran)
group vs. Vogt (ger) 2 : 3
group vs. Spiteri (mal) 0 : 2
Jakub Surmanek (U15)
group vs. Lavender (eng) 0 : 5
group vs. Spiroux (bel) 0 : 7
group vs. Nielsen (dan) 1 : 8
Jiri Cevela (U15)
group vs. Curtis (eng) 0 : 3
group vs. Frederiksen (dan) 0 : 1
group vs. Ibishi (alb) 6 . 0
Petr Lysonek (U15)
group vs. Zheng (chn) 1 : 1
group vs. Thulier (bel) 0 : 5
group vs. Breselg (ger) 0 : 3
Dominik Vanek (U15)
group vs. Deloose (bel) 1 : 1
group vs. Bois (fra) 0 : 3
group vs. Etienvre (fra) 1 : 2
14.06.2008 Vienna (World Cup)
Viteslav Madr (open)
group vs. Verhagen (eng) 2 : 4
group vs. Thoen (hol) 0 : 2
David Vacke (open)
group vs. Intra (ita) 1 : 7
group vs. Prantsoudies (gre) 1 : 4
Dominik Vanek (U15)
group vs. Stefanucci (ita) 0 : 0
group vs. Willejins (hol) 1 : 2
Jiri Cevela (U15)
group vs. Fouchet (fra) 4 : 0
group vs. Kwiatkowski (ger) 0 : 2
last 16 vs. Timmers (hol) 0 : 3
Jakub Blaha (U15)
group vs. van Os (hol) 2 : 5
group vs. Russel (usa) 1 : 1
Petr Lysonek (U15)
group vs. Wasshuber (aut) 5 : 0
group vs. Lavender (eng) 0 : 1
last 16 vs. Kagenbein (ger) 1 : 10
Petr Hutka (veteran)
group vs. Monica (ita) 0 : 10
group vs. Koutromanos (gre) 0 : 0
Stanislav Opl (veteran)
group vs. Bom (hol) 0 : 8
group vs. Tilgner (ger) 1 : 2
Kamila Hladikova (female)
group vs. Herbaut (fra) 0 : 4
group vs. Lo Cascio (ita) 1 : 3
group vs. Radic (aut) 0 : 2
Jan Sipka (U12)
group vs. Zambello (ita) 0 : 1
group vs. Caviglia (ita) 0 : 2
group vs. Feo (ita) 1 : 3
06.09.2014 Rochefort (World Cup)
David Lazzari (veteran)
group vs. Winkler (ger) 1 : 1
group vs. Pommier (fra) 1 : 1
group vs. Bamberzky (aut) 3 : 5
12.09.2015 San Benedetto del Tronto (World Cup)
Jiri Uchytil (open)
group vs. Huynh (bel) 1 : 8
group vs. Leitner (aut) 0 : 12
group vs. Allen (sco) 1 : 1
Marco Zucchi (veteran)
group vs. Vivron (fra) 1 : 1
group vs. Finch (eng) 1 : 2
group vs. Mair (ger) 2 : 2
David Lazzari (veteran)
group vs. Zammit (mal) 5 : 1
group vs. Alegi (usa) 3 : 0
group vs. Hinkelmann (aut) 2 : 4
Last 32 vs. Pisani (mal) 4 : 3
Last 16 vs. Naszaly (fra) 0 : 1
03.09.2016 Frameries (World Cup)
David Lazzari (veteran)
group vs. Hinkelman (aut) 1 : 4
group vs. Lopez (spa) 2 : 2
group vs. Massart (bel) 1 : 2
Marco Zucchi (veteran)
group vs. Pommier (fra) 1 : 2
group vs. Stamatopoulos (gre) 1 : 3
group vs. Pisani (mal) 1 : 2
02.09.2017 Elancourt (World Cup)
Jiri Uchytil (open)
group vs. L. Abreu (por) 1:4
group vs. S. Scheen (bel) 0:8
group vs. R. Popp (ger) 0:3
Marco Zucchi (open)
group vs. C. Filippella (usa) 1:4
group vs. D. Conti (mal) 0:6)
group vs. A. Volkov (rus) 7:0
Martin Novotny (veteran)
group vs. D. Scheen (bel) 0:6
group vs. G. Thomas (wal) 4:1
group vs. L. Lopez (spa) 0:5